Forward written by Paula Parker 
When I think about Bob Pick, I immediately think of high energy, big smile, all-round enthusiasm, genuine spirit…in a nutshell, "super-coolio-awesome!"  His list of attributes is endless, and his professional accomplishments run just as long – I was exhausted just reading his bio! 
When I think about Bob Pick, I also think about perseverance, survival mentality, being a role model, a daredevil, someone who loves life and is grateful for everyday living it. 
All of the above is the very reason I wanted to partner with Dr. Pick for Outside the Op …he's the very embodiment of "Outside the Op" – to showcase dentists who thrive professionally and personally because they recognize the need for – and take action to – self-care and find balance personally while leading their practice and caring for their patients. 
As dentist-owners, you all have your own professional style, your own path to practice success, and your own set of accomplishments and struggles.  Outside the Op features ALL dentists willing to share their journey in dentistry and practice ownership, and Dr. Bob Pick has an amazing one to share – so let's get to it!        
I am not sure where to begin, so here it goes!
I started my practice 40 years ago in 1982 and have been 100% fee-for-service practice (FFS) from day.  I still love what I do, and I cannot wait to get up on Monday through Thursday (the days I am in practice – no evenings and no weekends – we work too hard in dentistry to overwork), be the first one in the office, and as many hear me say but so true, I cannot wait to see what I call my "5-Star-Purple-Cow-Wow-Team!"  (More on Purple Cow later!)  My theory:  when you open that door to enter your office, it is "SHOWTIME!"  As I talk about in my Mastermind sessions, the team behind you can make you or break you – always have the right personalities for each position, and you will differentiate your practice from the rest!  When you love your team, take care of them, and you'll develop an environment second to none that no one wants to leave! Just ask my assistant, Sonja, who's been with me for 30 years!
I have always taught part-time, as I feel it is important to always keep learning, and to give back and help others succeed.  Granted, this is my opinion, but early in my career I discovered those that I related to also taught part-time, had very successful practices, and to put it quite bluntly, were financially successful!  Although I didn't really understand the full meaning of that trifecta at the time, I've learned it yields FREEDOM and FREEDOM, which is huge! 
I'm the guy that wishes I could go back in time with what I know now for a do-over on some parts…and also prevent others from making the mistakes I made.  In the end though, I believe this generated the passion I have for creating the "PURPLE-COW-WOW!" Mastermind and Facebook groups!
Seriously, I had a life-changing incident in August 1998 which reset my career path and hold close these two quotes:    
"In the middle of every difficulty lies opportunity!'  Albert Einstein
It is one of my favorite quotes along with this one…
"The best way to predict your future is to create it."  Abraham Lincoln
I only recently discovered these quotes (maybe 3 years ago now), and during this unprecedented time that we have lived through, they are so important to think about, analyze and do!  And yep, every one of my team members, and everyone I coach, knows these quotes by heart.  
I also love all of my hobbies and they are subliminally an important part of what I do every day! This includes playing the guitar, and as weather permits, going for awesome rides in my old classic Corvettes! So cool!! 
Also believe it or not, I love what I do so much that when I am creating and developing "PURPLE-COW-WOW!" content, the entire process is an incredible endorphin high!
Finally, getting away from it all is an important part of what anyone should do in any business.  Four times a year with my better half Carmen, she and I go away, enjoy, and have fun!  Carmen and her daughter Diana are both nurses and I am so proud of them! Diana now has 2 little boys 3 and 5 years old.  They simply call me Bob!  With our "Super-Coolio-Awesome" technologies that we have today such as Zoom and FaceTime, I can see them all week long – again giving me that endorphin high!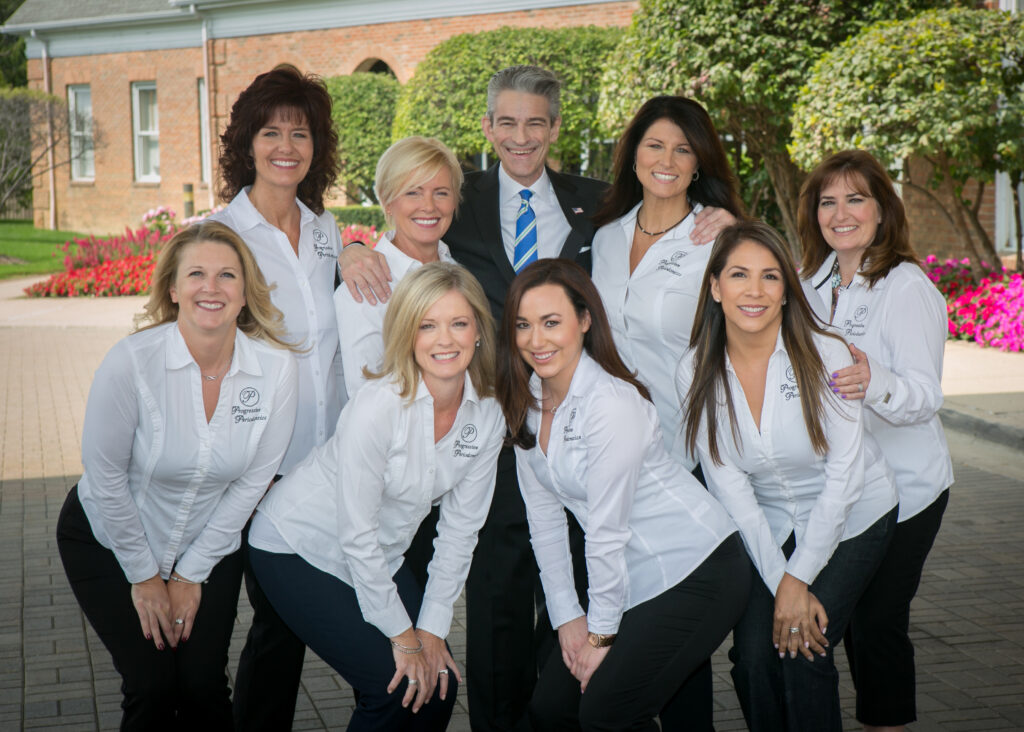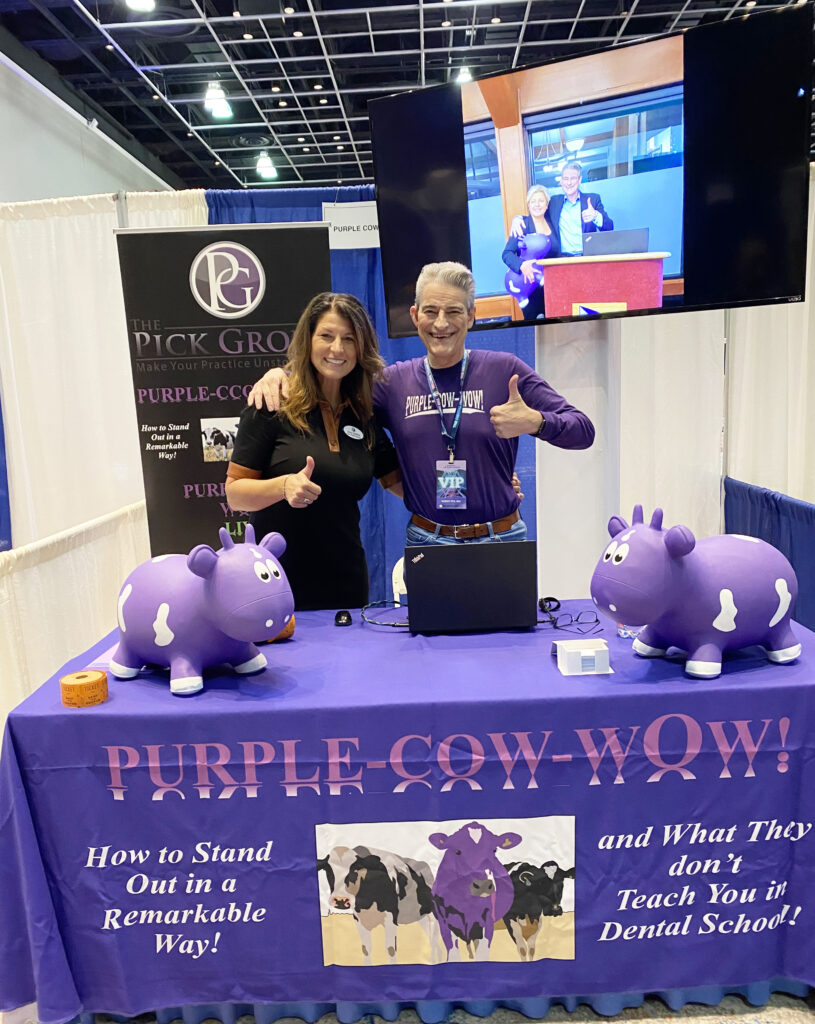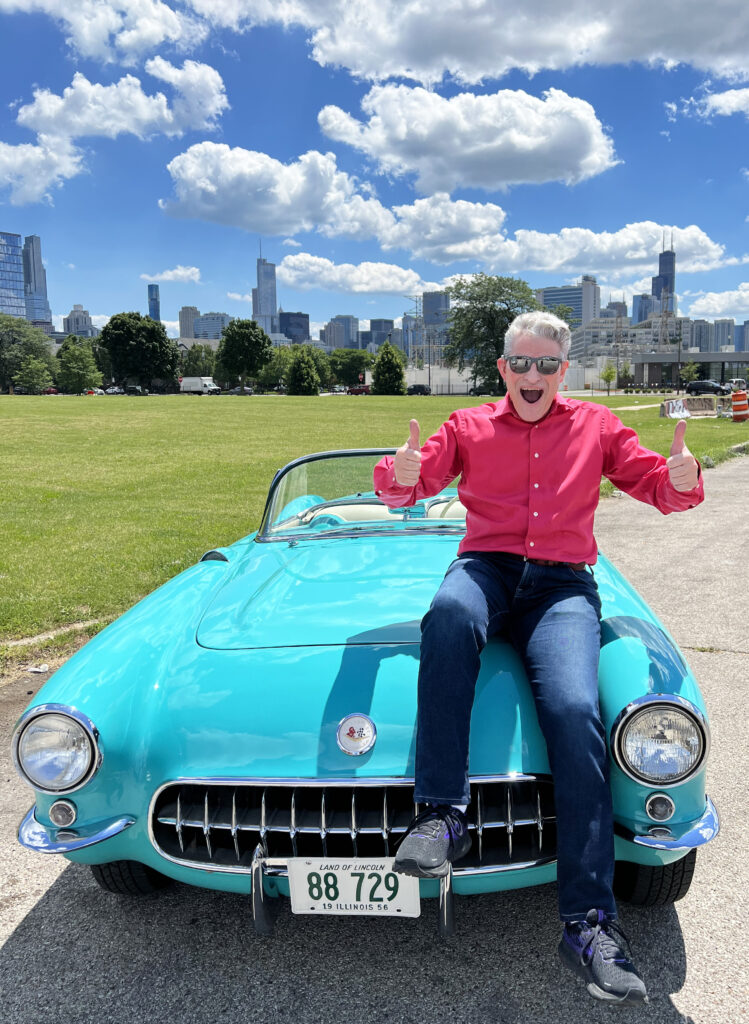 My path to dental school was not a straight one.  I was actually a very poor student through grammar school and most of high school.  My 8th grade teacher told my mother I would never succeed in anything related to upper education past grammar school.  I now understand my challenge was/is what we've identified as ADD/ADHD – yet I've learned how to get around it. In fact, figuring out how to manage ADD/ADHD was one of my major keys to finding success throughout my life. 
I discovered how to fine tune in college as my study habits were a mess – I was up every 10 minutes walking around because I could not sit still.  But from about 10 pm – 3 am, I settled down and could really study and crank through it.  My energy levels at that time were through the roof and I was one of those people that did not require a lot of sleep.  I left high school with a 2.1 GPA and three years later as an undergrad at University of Illinois, was admitted to Northwestern's dental school!  And what do you know…I really LIKED school!
University of Illinois, Chicago, Chemistry and Physics 
Northwestern University Dental School, 1980
Periodontics & Implants, 1982
M.S. Oral Pathology, 1983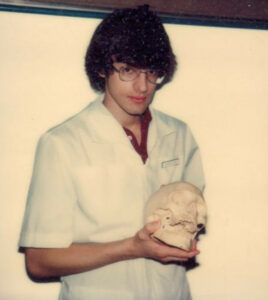 As I was finishing my training, I began to interview for jobs as an associate Periodontist. I have always been very Picky (no pun intended), and things such as personal appearance, image, and detail, have always meant a lot to me.  One of my best lecture quotes that I use is:
"Image coupled with a strong performance is UNSTOPPABLE!"  
Examples of those that live this creed are Michael Jordan, Tony Robbins, Elon Musk, etc. – you get the idea. 
Very innocently, and as I look back on it possibly a silly decision, I decided none of those associate jobs were for me. I am from Chicago and wanted to stay rooted there.  One of my fellow Perio Residents had also decided to remain in Chicago, and to my surprise, found we had both interviewed at the same offices for the same associate roles and had come to the same conclusion.  We both wanted to teach part-time and do our own thing. 
From there, we decided to become partners.  Keep in mind, this was 1982, way before the Internet.  We went to a gas station, grabbed a map of the Chicago area, got a copy of the Perio Academy booklet showing the locations of every practice, and pinned them on the map.  We did our homework around the growing areas of Chicago and found Naperville/Aurora – a fast growing suburb with great interstate access. 
Turned out we were a little ahead of the game and had a very slow and difficult start.  But growth finally caught up with our decision and it turned out to be one of the best long-term plans I've ever made as the area continues to explode!
Early on in my dental career, I did a lot of pioneering with lasers in dental surgery and was on the lecture circuit quite a bit.  This put me in a position to interact with some of the biggest leaders in dentistry at that time and graciously, a few of them took me under their wing and became amazing mentors to me.  At any phase of your career, a mentor is THE NUMBER ONE THING I believe is the secret to success.  I had five amazing dentists in my life and to this day I keep in touch.  I believe it is true that you are the sum of the five closest people you surround yourself with in life.
Another thing that came from my time on the lecture circuit was figuring out who and what I wanted to be.  I consulted with Fortune companies that wanted to get into dental lasers and as a result, was around the culture and got to attend a few corporate retreats.  It was there that I decided I wanted to build a similar model for my practice…I wanted to be a successful Fortune level practice/business and a great company to work for as well, which would eventually come.
My guiding principle in practice is:
Always do all that you do with ethics and excellence first. You must always have your clinical hat on first and foremost. 
My guiding principle in business is:
Your acumen for running your practice as a business must be at that same level as your clinical skills – or you and your team will not succeed at the level you all work for and deserve.  Hence…THE PROFITABLE DENTIST! 
IT IS OK TO BE SUCCESSFUL!!!  There is no substitute for investing correctly – and early!  
This next phase of my life/career is where the above Einstein quote comes into play – especially in August of 1998.  Our specialty practice was doing well, but like many dentists, I was not yet focused on the business end as I wanted to be.  Then life changed.  
On Monday, August 24, 1998, at 5:00 in the morning I was in the shower, and my appendix blew!  I fell to the shower floor in a lot of pain and knew what had happened.  As a type A driver personality, I said to myself "I have a very busy day at the office, and I do not have time for this."
Luckily, in 1985, in addition to teaching part-time at Northwestern in the Perio grad clinic, I was also added to the hospital staff and medical faculty – an honor I hold high to this day.  And because of that very role, my doctor buddies at Northwestern literally saved my life that day with an emergency appendectomy and told me in just a few days, I'd be back at it.  That was Monday. 
On Wednesday, exactly 60 hours later, those same colleagues came to my hospital room visibly shaken – one of them crying – and informed me I had one of the rarest cancers known.  It was the first of its kind diagnosed at Northwestern and was an aggressive adenocarcinoma of my appendix – and the fact that it had blown off did not help the scenario.  I had six months to live. 
The next day I had a partial hemi colectomy.  I was 43 years old and still full of energy and told my colleagues I was not ready to go – let's do whatever we need to do to wipe this thing out.  I signed off on a series of potential side effects and went through 14 months of experimental chemotherapy and radiation never done before.  Suffice to say, I'm still here to tell my story, but not without ongoing physical challenges like a limp, use of a cane and a 96% hearing loss.  But I am here. 
It was also during my health crisis that I realized my practice partnership was not meant to be.  I liked and respected my partner as a person, clinician and would not hesitate to sit in his chair, but I bought him out and moved on solo.  I realized quickly that I knew NOTHING about managing my practice or the business of dentistry.  I needed to change my focus and crank it forward if I was going to succeed, so I hired a consultant/coach, focused on her systems, and the practice went vertical with afterburners!  
Another one of my favorites when it comes to my career and practice…
"Don't be jealous of those that are super successful but find out WHY they are…and if you can, put your OWN spin on it and CRANK IT!"
Within a year of hiring my coach, I developed what is now become the twice yearly "PBR" – the Pick Business-Team-Building Retreat.  The intent is bringing together the dentist-owner and entire team for 2 days away from the office to reconnect, recenter and reengage.   
During a dentist's first PBR, each must work with their team to develop the 3 Key Things unique to their practice/dental business:
Mission,
Vision
Culture
Once you have them down, memorize them and recite them by heart.  It is up to you to hire the right people, create the right culture and nurture your team at every turn. 
There are so many amazing ways to drive energy through your team and your practice while building an amazing reputation for excellence and engagement within your community.  In today's dentistry, it is critical that you and your practice stand out – again with ethics and excellence always at the center of what you deliver.           
I say all of the time that I believe all of us in dentistry work very hard both physically, emotionally, and mentally – every moment and second that we are in the office, and even sometimes away from the office.  And let's be honest, most people are not thrilled to come to the dentist or dental specialist.  There are various levels of dislike, but nobody looks forward to an injection in the mouth, the sound of the drill, keeping your mouth open, possible pain or discomfort once the anesthetic wears down, etc.  I also joke, that if we are off by 1/8th of a millimeter someone will complain that my filling, crown, etc., is too high, it doesn't feel right, and can you adjust it???  That can be extremely stressful on us, and many dentists I know can come home burned out, fried, and exhausted physically AND mentally.  We often have to assume challenging positions during procedures and years of that can result in shoulder and back pain.
In addition to the stresses above, were also running a business and have to be the CEO and team leader.  That role isn't taught in dental school, and the reality is, some dentists will be better than others in doing this.  I personally love what I do, and I think one of my strengths found early on in my career was the ability to hire good team members.  That said, trust me… I have and have had many weaknesses and failures along the way!  I always try to convert my weaknesses to strengths and work with my team to do this, too! 
TEAM is huge in all I do both as a Practice Management Coach AND as a Dentist-Owner.  
I agree that creating balance is important – both inside and outside of the office.  We must all be aware that every person handles balance differently, and each personality type may require different levels of balance and/or stress release at various times!  This also may change throughout a person's professional career. 
I discovered early on I loved the lecture circuit; I loved flying to places both nationally and internationally and seeing the world, and back in the day, it allowed me to meet and develop friendships near and far, that luckily the birth of the internet and social media have now made even that much closer.  So cool!
I also made a point to discover hobbies and interests that I loved – especially outside of the office – that have been amazing and wonderful stress relievers. 
Music
I love music.  At eight years old, I discovered the Blues and told my mother I wanted to play guitar.  I played piano like other kids…but my mom relented, and I got my first guitar…I've never looked back since. 
Like most Boomers in 1964, I saw The Beatles on Ed Sullivan and was hooked!  I started my first band in 7th grade and by high school had a full-fledged rock band!  Through the college, dental school and post-grad years the playing slowed down but slowly picked up again.  I have been in many bands since, and I still play almost every day to this day!  I even keep a guitar in my office which I sometimes play early in the morning, and sometimes it's used by the team to sing happy birthday to a patient – and then sent in a video! It's fun, relaxing, a blast, and using something I love this much in my practice is one of the many things that helps differentiate me and my team from others.  
I also want to note that you can do anything you want to do, and nothing should ever stop you, ever!  Remember my hearing loss?  When this happened, I had to have a Cochlear implant and from that point, everything immediately sounded different – it's called the "helium" or "Mickey Mouse" effect.  Although it has progressively gotten better over time, everything I hear is at a slightly higher pitch.  Although I was bummed for a little bit, through muscle memory and listening to the songs I knew over and over again, I quickly got back to playing as if nothing had ever occurred!   
Flying
I have always had a passion for flying and right after grad school I took that passion to heart and became a pilot.  I went through all the ratings and eventually became a part- time weekend jet jockey. Flying helped me release a ton of stress but sadly, the eventual side effects from chemo and radiation put a stop to it.  Now, whenever I can, I still go up with one of my flying buddies for the thrill and excitement of being in the cockpit.
Classic Cars     
Sometimes, we don't really know where our interests in things originate, but they seem to come into your life for a reason.
My younger brother (by 8 years) has always had a passion for restoring cars.  In 1988, he asked me for a small loan to buy an old Corvette he had found and asked me to come over to his garage and help him it.  Before I knew it there was a 3rd person and the three of us started a partnership, bought a rundown garage (that we fixed up), and every year we restored 3 to 4 original, matching number Corvettes ranging year from 1953 to 1967.  We did all the work but the paint.  We got pretty darn good at it, too.  I eventually kept two of them, a 1956 and 1967 model. 
Yep, as time went on and my physical handicaps became more challenging, we all decided we had enough and sold the garage – but man was it a good real estate investment over time!  To this day I can't wait for spring, especially here in Chicago, as it becomes time to get the old Corvettes ready and out!  Excitement baby! 
As the Chicago weather permits, I try to drive each car once a day.  This can be as simple as going to the grocery after a long day of work, or a fun ride on the weekend.  The thrill of being in an old Corvette convertible like that provides an endorphin high and a stress release that is simply not explainable, but out of this world.  And to make it even better, I love the thrill others get from seeing and talking about the cars, too! 
Giving Back
Where would we be without our patients?  They allow us to practice in the profession we chose and love, and as we care for them, their choice to be part of our practice cares for us in turn. 
That said, it is always nice to give back – especially when it is least expected!  We are living in unprecedented times, and that hit close to home, literally, when in February of 2019 there was a mass shooting not too far from our office.  From watching the news coverage, my team recognized one of the injured as our patient, a police officer on the scene who thankfully survived.  We had been working with him on several implants that needed to be done and he was in a healing phase from the extractions when the shooting occurred.  As I love and respect our men and women in blue, I told him as long as he was a patient, any treatment he needed (including his implants) were on the house as a thank you for his bravery and actions that day.  That seemingly small act of gratitude and kindness on our part meant the world to him and his family and we were honored to do it. 
I also have a very special "lady friend" – one of my original patients who is feisty and challenging and truly wonderful to care for over the years.  I've always teased her that "when you are 100 you will have all of your teeth and they'll still be working!"  She's remarkable…she was a nurse in WWII and served our country as a female Captain, then went on to raise a great family. She turned 99 this year and I always make a point to salute her when she's in the office – what a beautiful lady and what fun it is to have been her dentist all these years!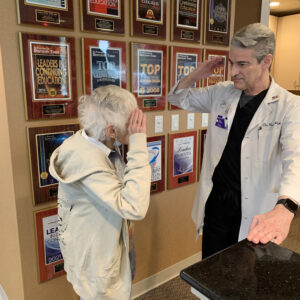 You also never know where time may take you. 
I left lecturing on lasers in around 1997 for many reasons – and with lots of life lessons intact.  After lasers, I transitioned into lecturing on Perio/Restorative, and without me really knowing it, I ended many of those lectures with some tips and tricks on practice management.  I was told by many that heard me speak I would end up working in practice management and I told them they were all nuts. Yep, they were spot-on! 
One of my goals has always been to help others. In these unprecedented times we find ourselves in, and going forward, I want to help others massively succeed and never make any of the dumb mistakes I have made.
With that, I eventually got branded the "PURPLE-COW-WOW!" guy.  Let me explain…Purple Cow comes from Jeff Godin's book Purple Cow, meaning separating yourself from the competition in an amazing way.  I added the WOW! as I feel the wow factor should be involved in everything that you do – and as always – with ethics and excellence first!
Now I have the "PURPLE-COW-WOW!" Facebook group and the PURPLE-COW-WOW-MASTERMIND group I run to help others succeed. 
I believe the path to success is: 
Take Action
Action leads to Differentiation
Differentiation yields Success
Success yields FREEDOM, FREEDOM, FREEDOM – so important! 
Thanks for letting me share my journey – I hope yours serves you well.