There is perhaps no one better known as a pioneer in the oral-systemic movement than Dr. Barb McClatchie. When you hear her on stage, you are immediately impressed by her scope of intellect, talent, commitment to dentistry, and her enthusiasm for the oral systemic movement. Then, when you get to know her a little better, you are treated to the full picture of just how adventurous, fun, loyal, compassionate, giving, and classy Dr. Barb really is.
Barb and her cardiologist husband, Dr. Eric Goulder founded The Heart Attack and Stroke Prevention Center of Central Ohio (HASPC), the first Medical/Dental practice in the U.S.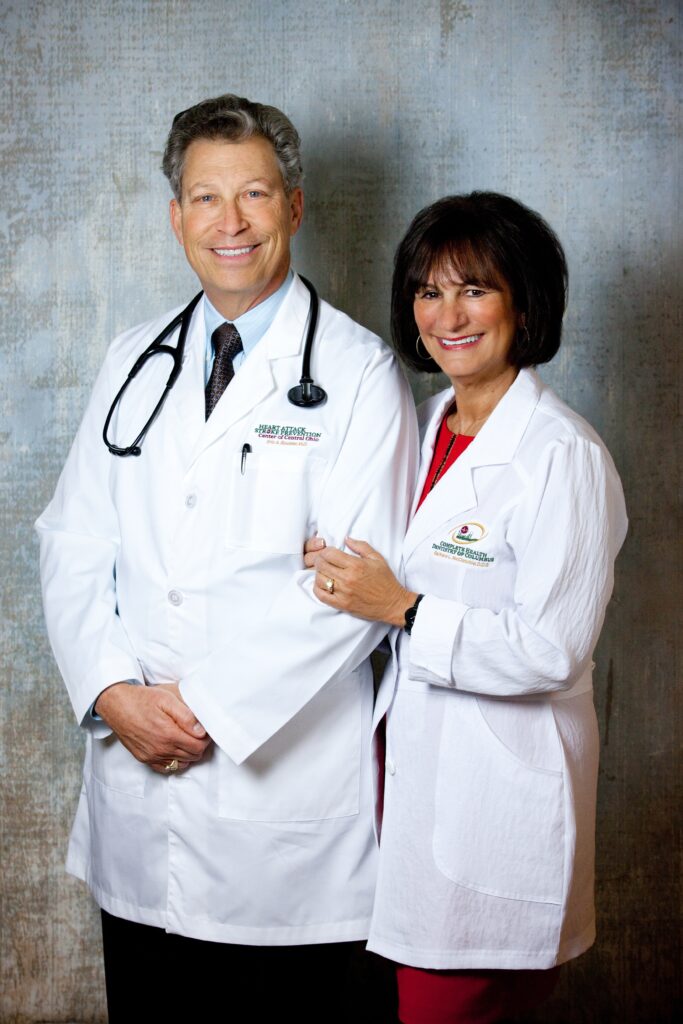 Yet, while Dr. Barb has endured some serious setbacks in her career, she has always grown stronger. In this interview Barb shares her journey to becoming one of the best-known figures in the Oral Systemic Movement, and how she has found balance and peace along the way. Let's go "Outside the Op" with Barb and hear about her journey through dentistry and life…
TPD:  So, Barb, you've had a rather incredible journey professionally. Let's start by asking how you got into dentistry and how you discovered the oral systemic health movement?
Dr. Barb: The way I picked dentistry was quite interesting. My dad said I could go to any college other than The Ohio State University, because he didn't want me to follow my high school boyfriend. So, when the time came to choose a school, I had my research ready and told him I wanted to be a dental hygienist, and OSU had the best hygiene program around.
The interesting part was, I didn't even know what a dental hygienist did! My childhood dentist never had one! So, in 1982, I started my journey into the dental profession as a dental hygienist.
I worked as a hygienist for 6 months then as an AQP placing restorations and doing everything in the office other than giving anesthetics, drilling, and extracting! I had a great dental mentor that encouraged me to go to dental school, so I did! I received my Doctor of Dental Surgery and completed the General Practice Residency Program, both from The Ohio State University in 1986 and 1987
I got married, was raising 2 boys, and worked as a dental associate part time while attending all 6 continuums at the LD Pankey Institute. As an associate, I ran a downtown Columbus practice for a dentist who owned 2, until I showed up to work one day to learn he sold his other practice and was going to work fulltime in mine. I received notice by fax that I would no longer be needed! Suddenly, I was unemployed, with no notice, and felt I had no control over my own destiny.
The next morning, I started making calls, and eventually settled into another associateship three days a week so that I could be active and supportive to my 8- and 10-year-old sons. Just when life got comfy again, my world took another unexpected hit. It turned out my husband's growing erratic behavior was due to drug addiction, and we watched his job as a successful VP of Marketing for a major fast-food chain evaporate, along with our security and marriage of 20 years. Once again, because of someone else's choices, I found myself starting over.
I gathered my strength, did my homework, and bought my own dental practice, without having any business training. This is really where the forced changes from adversity become interesting.
Because I was the now practice owner, I got to choose the treatment we offered, so decided I wanted to do saliva testing. Always curious, I was learning about so many oral conditions and how they affected the rest of the body. Also, I found three mentors who fueled my interest in the oral systemic philosophy within my practice; Gary Kadi, who introduced me to Brad Bale and Amy Doneen of the Bale Doneen Method.
I saw Brad Bale and Amy Doneen at the founding meeting of The American Academy of Oral Systemic Health (AAOSH) in 2010. I was so excited to learn how heart attacks and strokes are preventable, but only if medical providers work together with like-minded, trained dental professionals. I got even more excited learning how managing the sources of inflammation due to periodontal disease, endodontic disease, and sleep disorder breathing impacted my patient's health. Suddenly, IT ALL MADE SENSE!!
In fact, I happened to be dating a board-certified cardiologist at the time and came home eager to share what I'd learned about the medical/dental connection. Eric and I both returned 5 months later along with my two hygienists to take the 18 hr CE/CME preceptorship course to learn all the science behind The Bale Doneen Method. We were forever changed. You don't know what you don't know… UNTIL YOU KNOW!
So, fast forward 4 years, and we were at another AAOSH meeting with my team when my hygienist turned around to me and Eric, who was still a boyfriend at the time and practicing cardiology in a hospital setting 2.5 hrs away, and said "WHY AREN'T WE DOING THIS?" Eric and I looked at each other and said, "WHY AREN'T WE??"
Fortunately, THIS life change wasn't forced on me because of somebody else's crappy decisions but was totally within MY control.
So, in 2017, at age 62 and 67, my now husband and I opened The Heart Attack and Stroke Prevention Center of Central Ohio (HASPC) together! The office was customized to have five dental operatories and a medical exam and consult room. We were the first in the country to have a combined dental/medical practice under one roof!
We are doing groundbreaking research by using objective blood and urine tests with our patients prior to and after periodontal therapy as well as endodontic procedures. We repeat this testing at two weeks, one month, and 3 month intervals to show the impact we as dental professionals, primarily our dental hygienists, have on the systemic health of our patients.
I recently became certified as a dental provider in Dale Bredesen's Recode program, Reversal of Cognitive Decline. So, between my work and Eric's preventive cardiology work, we're able to treat four of the six subtypes of Alzheimer's by addressing the root causes to slow down the progression and halt the disease process. We have also started working closely with a functional physician to address hormones, gut health, and toxic components that contribute to cognitive decline.
One of my favorite quotes is by Maya Angelou, "Do the best you can until you know better. Then when you know better, do better." I've come to appreciate the dramatic setbacks over years as opportunities to learn and "know better." I believe this amazing journey I've had wouldn't have been as rewarding had it not happened.
It's really amazing to think about the lives I've touched, and all the amazing work we're doing, none of which would have happened if I'd done what my dad wanted and gone somewhere like the University of Michigan and become an accountant instead.
TPD: With all the setbacks, curveballs, and challenges in your professional life, how have you managed all the stress that comes with being a practice owner, active dentist, researcher, and speaker?
Dr. Barb: I was once asked to describe interests in four words. I chose dancing, laughter, fireworks, and rollercoasters!
I love to have fun. I am 66 and still feel like a youngster!
I love adventure and trying new things. I get solitude with my gardening. I much rather play in the dirt, growing veggies, herbs, perennials, and designing all my urns with an array of annuals, than cooking and cleaning. Eric and I love to entertain! We host Thanksgiving for 30 people and serve many of the harvest crops from the garden.
I was once asked what I would have done if I wasn't a dentist. I said I would have been a landscape architect or a dancer on Broadway…in my dreams! But the things that put a guaranteed smile on my face, fireworks, and rainbows.
Eric and I have also become fans of bourbon over the last 4 yrs. We have traveled the Kentucky Bourbon Trail three times. The first time while at Woodford Reserve with some AAOSH colleagues, a woman went down in the gift shop with respiratory distress. Eric and I did CPR for 25 minutes until EMS arrived, and we followed up later to learn she would be OK.
The cool thing was, after the excitement was over, the distillery gifted us an engraved bottle with a quote they found on our website: "ON A GOOD DAY WE SAVE A SMILE, BUT ON A GREAT DAY WE SAVE A LIFE." They even added, "THANKS FOR A GREAT DAY!" It's one of our most treasured possessions.
I'm an avid Buckeye fan and have had season tickets for OSU football since I was an undergrad. Between dental hygiene, prerequisites for dental school, and residency, I spent 11 years at OSU!
During residency, I made myself some custom "party teeth" that I still take to all professional meetings to make people laugh, as well as wear them through the month of October for my patients every year. The reactions I get are so much fun for me!
We are a blended family with five children and four grandchildren, including a brand new seven-week-old, and are empty nesters, as we lost our two golden retrievers this summer.
One of the best things we ever did to create a successful blended family was to take our four sons on a whitewater rafting trip down the Colorado River (I told you I liked adventure). The boys went in as strangers and came out as brothers.
At age 66, my son Adam invited me on a nine-day trip through Colorado and Utah, living the van life with him. I wanted to experience and understand his love for climbing mountains and meeting fellow "van lifers."  It was a great way to celebrate our birthdays together. I was surprised by my confidence and strength hiking on the rocks, and how much I improved every day.
I made it home without any broken bones or sprains, only a few battle scars on my feet. Every morning Adam and I woke up somewhere different, drank our morning coffee and celebrated happy hour talking about the day's accomplishments. I will always cherish the time we shared "off the grid."
OH! I almost forgot. Remember I said how much I love fireworks and gardening, right? Well, my first son was born on the 4th of July and my 2nd son was born on Earth Day. I think that sums up how blessed I am, and how I choose to do better when I know better.
They say life is 10% what happens to you and 90% what you do about it. I hope my family and friends always see me growing, learning, and enjoying every minute.