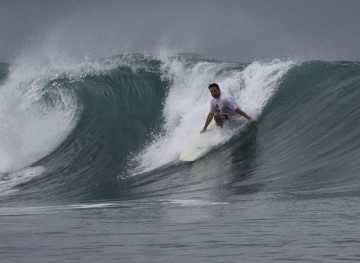 Meet Brian Davey, DDS – a dentist-owner since 2000.
When talking to Dr. Davey, there's no doubt his love for patient care has resulted in building two successful practices in San Diego…and while he loves caring for both patients and those underserved in the San Diego community, discovering his passions outside of his practice is what fuels his personal wellbeing – and serves as a refuge for self-care, with time to refuel and reset. So…let's go "Outside the Op" with Brian Davey and find out how he finds balance between the ongoing demands of being a dentist-owner and devoted family man through his interests and passions…
Education
Graduated with honors from University of California San Francisco School of Dentistry, 2000.

Holds two undergraduate degrees, BA and BS

Dental Materials Researcher, UCLA
Early Career
I started as an Associate in Orange County, California and worked for three years, then switched gears to open a practice in north San Diego. A lot of growth was happening in the area, and the walls of my practice were being built in parallel with new houses and the freeways surrounding the office…creating a wonderful, thriving community around us.
Building a Practice…and a family life
My wife and two kids got used to wearing hard hats and taking emergency trips to the country offices for construction permits. It was chaotic and challenging, but now the area has matured and is thriving…as we celebrate 19 years in our office!
Talk about stress as a dentist
The challenges of growing a practice (or two!), training the team, expanding knowledge to deliver the highest level of patient care, the changing insurance and regulatory landscape, and the details of business management …it is A LOT of responsibility shouldered by the dentist. It is not a forgiving profession when it comes to finding a work-life balance – you have to make that happen for yourself and for the overall good of your family and your own personal wellbeing.
Being a dentist is hard…how do you create a thriving personal life "Outside the Op"?
I am 100% devoted to my amazing family, but for myself, I have a few passions…
I'm an avid surfer and I love to travel. Some of my travel combines the two as I seek out areas around the US and in other coastal countries to experience – I love finding new places to surf! My favorite place outside the US so far is El Salvador…and I made it to Hawaii last year to surf Waikiki!
My beautiful wife of 28 years, Lisa, and I have a great philosophy when it comes to life together…we are "retiring along the way" and make sure to carve out time in our schedule to stay connected with immediate and extended family, enjoy vacations, and find new places to go SURFING!
Talk to us about what surfing means to you from a well-being standpoint… 
Surfing is many things to me.  
It's my physical therapy. As a dentist, we all spend a lot of time in a crouched position looking down over patients.  The work is narrowly focused and precise, and my breathing is limited to hold steady. Surfing is the opposite. I am in a supine position with a back arch and upward gaze while paddling…like the cat/cow position in yoga.  I can breathe freely and the visuals I have are stunning…vast and blue as I surf. There are 3 key emotional elements:  challenge, fear, and reward.  
I surf at least four days a week.  I am up at 5am and to the beach, surf, then on to my practice.  My commitment to morning surfing creates a structure and gives me a peaceful and energetic approach to my day.   
Candidly, I also love the adrenaline rush – surfing never gets boring.  I channel my inner drive into something other than dentistry…practice management…work. I can ride a good wave… then look for a great wave… and am always searching for the next best! 
Are there other things you've found outside the op that bring you balance?   
Yes! I've found a few things that allow me to focus on self-care, including caring for others.  I find a tremendous amount of relaxation through painting. I have always sketched little drawings on cards and been a "doodler", but when I picked up my brush and paints, I realized how peaceful it was. I make a mess; I make mistakes, but who cards, they're correctable.  Most of all, I love giving my art to people.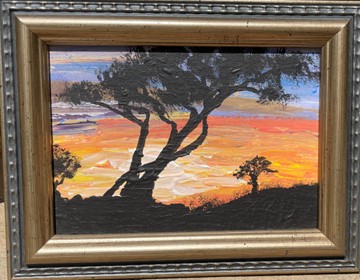 Part of my self-care is caring for others in a way that leverages my profession with those that often experience barriers to care.  I love doing volunteer dental work and have provided dental care to those in need for the last 15 years.  I cannot express how sincerely rewarding it is.  I've met so many amazing individuals through volunteering…from the remote islands in Indonesia, to my own backyard.  There's so many we can touch with our talents – veterans, homeless, underserved school children…I even started my own mission to provide dental work to homeless youth in San Diego.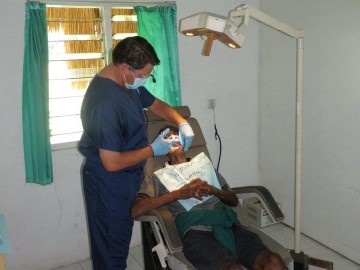 As dentists, we are blessed in so many ways and have so much to offer those around us.  I'd love to challenge each of you to look beyond your practice and all that comes with being a dentist-owner and look for an opportunity to give of your education and talents.  Each of you have so much value to add and as many know … when you give of yourself, you receive so much more than ever imagined in return.    
If you are a dentist-owner and would like to share your story on how you find balance between the demands of dentistry and practice ownership and your personal well-being, please reach out!