It is apparent that dental implant education is on the rise as more patients are presenting to our practices requesting an improved quality of life.  They now google search when they are unsatisfied with their existing conventional dentures or partials, have tooth pain or unaesthetic dentition. What inadvertently pops up in their searches are the techniques dealing with prosthetic reconstruction using dental implants.  Social media too has played a pivotal role in directing potential customers to the dental chair.  The information presented is helpful but not always complete in discussing the benefits and more importantly the risks involved.  The dental team must become proficient and efficient in providing this therapy which means a comprehensive education should be completed. Evaluating vital anatomy restrictions is one facet that must be thoroughly explored. Many practitioners have resisted involvement in the surgical side of dental implants because of a fear of the position of the mandibular nerve and the size of the maxillary sinuses.  Anterior implant placement can be complicated and small discrepancies can result in either fixture of restorative failures.  We have all seen the consequences of improperly positioned implants which creates laboratory compromises and reduced aesthetics.  The advent of CBCT analysis has allowed the practitioner to visualize the case finished before any surgical intervention, allows for evaluating vital anatomy and even digital placement of the correct width, length and angulation of the dental implants.  The restoration can be virtually designed and conferred with the patient.  Guided surgical procedures involve the stitching of the patient's existing condition with the eventual final prosthesis and helps in better placement of the fixtures. The newest innovations involve reduction guides contouring the bone structure and stacked surgical placement guides.  If prepared properly, a transitional appliance can be seated immediately or a conventional denture can be converted to a screw retained fixed appliance. Many rules must be followed to accomplish this feat, including torque of the implant in the available hard tissue and ideal anterior-posterior spacing of the implants along the arch to provide an engineering functional success. Although guided surgery and milled or printed appliances are a tremendous benefit, there must also be a clear and concise understanding of surgical placement of the implants using two-dimensional protocols just in case problems present themselves through inaccuracies in design or fabrication. The surgical guides are only as good as the manufacture and any slight distortion may result in immediate or future problems.  
Emergence profile and smile design are critical aspects of today's implant methods. This is true in every part of the oral cavity but extremely essential in the premaxilla. Smile and gingival lines are to be respected.  Virtual design of the prostheses can be accomplished to minimize complications later.  The amount of interocclusal space should be precisely measured as this number may affect the type of final prostheses that can be created.  For screw retained implant prostheses to have long term function we need 14-16mm of interocclusal availability per arch. This may require bone reduction to achieve the necessary room.  Bone is such an important part of implant longevity and must be venerated.  Regardless of our intent, changes in the body will occur over time. Patient's health may deteriorate with age and medications become prominent.  Hard tissue loss may occur over years of use, which could affect the overlaying prostheses.  Periodontal management may become compromised with diminished manual dexterity.  Therefore, understanding these concepts and explanations to the person sitting in our dental chairs of long-term expectations is as important as the immediate surgical and prosthetic protocols we provide. 
Connecting with potential patients and especially those interested in obtaining increased form and function with dental fixtures begins with the first phone conversation with your team. A pleasant interview will introduce your talents. Most health, medication and specific desires can be determined through the call and online submissions to the office.  When the patient arrives, they should be greeted with a positive attitude and promptly seated in the examination rooms.
The team does our preliminary review, including necessary radiographs and determining detailed desires.  We often focus on why the patient is here during this initial consultation. We have found that creating an environment without pressure places the patient at ease.  Let them communicate their ultimate goals. At this point our job is to educate and instruct what is achievable rather than selling a product.  Before this can begin, we must develop some type of relationship.  Conversations are made with eye-to-eye contacts. We will briefly introduce ourselves, but first want to be assured that everyone has treated them well so far.  Credentials and experiences are addressed. 
Take a look at the quick video below to better understand how we introduce ourselves to our patient…
Patients are generally aware of dental implants but have a limited knowledge of their applications.  It is reported that almost half of all patients who are offered dental implants for missing teeth decline treatment because of misunderstandings.  Our job then is to educate each aspect of what is possible, meeting their desires and expectations and financial budget. Implant dentistry is certainly one of the most financially rewarding therapies dentists can provide.  If this is a modality that is incorporated well, the dentist should define him or herself, knowing strengths and weaknesses in your character, knowledge and skills.  There should be a conscious seeking of self-improvement, developing strengths and working to overcome weaknesses.  This is true in all aspects of our therapies, but especially in invasive surgical procedures and prosthetic fabrications that can affect the individual's visual presentation to society, that is their smile.  Chewing efficiency may increase overall health and confidence may improve. Building implant competency is accomplished by reducing the fear factor by using predictable implant techniques, educating oneself to the highest level and practicing hands-on techniques to help retain information. There are many high quality dental implant training programs available which allow the practitioner to learn and experience protocols on patients. Consider training programs through the AAID and ICOI.  Preparation of the initial consultation includes being able to confidently answer questions the patient may ask.  What are the options available to replace teeth?  All options should be discussed and, on the table, including no treatment, conventional removable appliances, implant retained removable or fixed prostheses.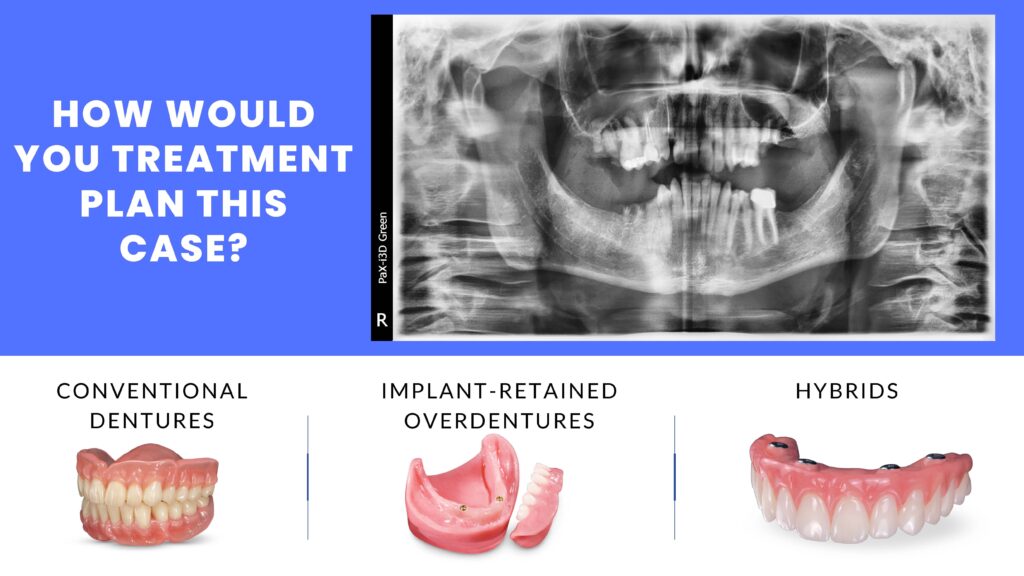 Obviously cost may play a role, but financial discussions are not made. At this juncture, the intent is to mold the patient's initial thought processes into a firmer commitment. No judgment is made here, rather clear conversations.  The patients may ask about your experience and education so it is imperative that your comprehensive training is explained.  Following this, the steps involved in the process, what the patient should expect during and post-surgery, what they will wear during the healing time and finally the benefits and risks involved in their specific situation. Dental implants are small pieces of metal made of titanium. Titanium is a biocompatible material used by our orthopedic colleagues in knee and hip replacement. Biocompatibility means that bone will grow around the implant and it becomes a permanent part of the jaw and allows us to anchor something to it, be it a single tooth, multiple teeth, a support for a partial denture or supported horseshoe shaped denture or even a full set of teeth. There are two criteria for people who want implants; you must be relatively healthy with no uncontrolled healing problems, the result of such things as uncontrolled diabetes, uncontrolled hypertension or immunosuppressive diseases, such as AIDS.  The second criteria is that you must have enough bone to place the implants. When teeth are lost, bone naturally shrinks down-and-in in the lower jaw and up-and-in the upper jaw.  In the back part of the upper jaw, when teeth are lost, the sinuses can become bigger.  Sinuses are air cavities that lighten our skull and warm the air.  Tooth roots act like tent poles holding up a tent. When the tent pole is removed, the tent collapses.  Bone is alive in the body. If you've ever broken a bone, you know you are in a cast for a time and the bone heals, often stronger than before.  The same thing happens with our implants placed in the jaw.  The surgical procedure itself is quite routine. The gum tissue is numbed or anesthetized and an incision is made. A series of drills will prepare the site for the fixture being threaded to place. Depending on the quality of bone available, the implant will be covered with a flat screw or a taller screw that penetrates through the gum tissue.  There will be some sutures or stitches that will be removed in a week. We then need to let the implants heal and the dental implants integrate for a time. The time is dictated by the quality of bone possessed, but is routinely three months in the lower jaw and four months in the upper jaw.  Once the implant is integrated we will then make an impression or negative of the inside of the implant. This information is sent to our dental laboratory and they fabricate the second part of the implant, which is referred to as an abutment. The CAD/CAM designed and milled final crown will then be cemented or threaded into place.  Our implants today are very successful, but occasionally, the implant does not heal the way we expect. This occurs due to the inability or unwillingness of the patient to keep it clean. Engineering plays a role, so we use high quality materials with proven long term results. Smoking can affect the healing of the implant as smoke and heat are generated. Sometimes we just don't know why an implant does not integrate. It can be the result of the implant, my surgical technique, changes in body chemistry or hormonal changes.  However, if an implant does not heal we normally know this during the initial healing time. We've always warrantied our work and if something should occur that we cannot predict, we will replace the implant.  During the healing process, we may provide some type of transitional or temporary restoration.  At this point any more questions the patient may have will be discussed.  Most often the patient now has a specific goal in mind and will be directed to a private conversation of the treatment plan, fees and responsibilities.
Take a look at the quick video below for an example of how we talk to our implant patients… 
Most often the patient is surprised on how the process is completed and has a positive experience.
Following any procedure where the patient has experienced an affirmative response, there is an opportunity to promote the practice.  This is the best marketing strategy for financial success. Happy patients will refer to like- minded potential clients.
When first reviewing any radiograph, including a panoramic, digital periapical or CBCT, options will appear that need to be discussed with the patient. Although these individuals may have concepts in mind concerning dental implants, the responsibility of the well-trained dental professional is to create an approach where the patient can begin to visualize their own personal result.  Viable options, budget concerns and conversations on the long -term benefits help create an experience where the patient is in control to make an informative decision that best benefits them and their perceived goals.  Informed consent are imperative tools to keep the conversation going and helps the patient understand the options presented and approve of the treatment about to be provided.   Potential surgical complications are clearly explained and understood prior to surgery. Consent forms are used in each of the dental implant related procedures including extractions, bone grafting and the implants themselves.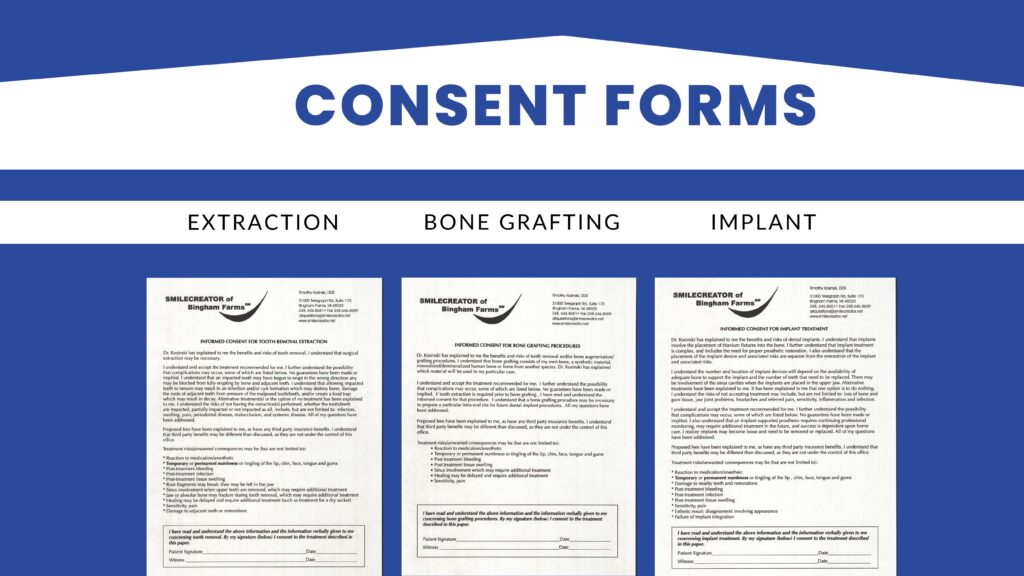 It is often helpful to have educational models provided by the dental laboratory to explain possible end results. 
Another approach is to have photographs available of similar conditions and treatments so the patient can clearly visualize what is possible.   The methods used can vary from condition to condition. 
Succinct step-by–step demonstrations are established of restoring an edentulous mandibular molar tooth including what an implant looks like in bone and how the process continues through impression making to the seating of the final implant retained crown.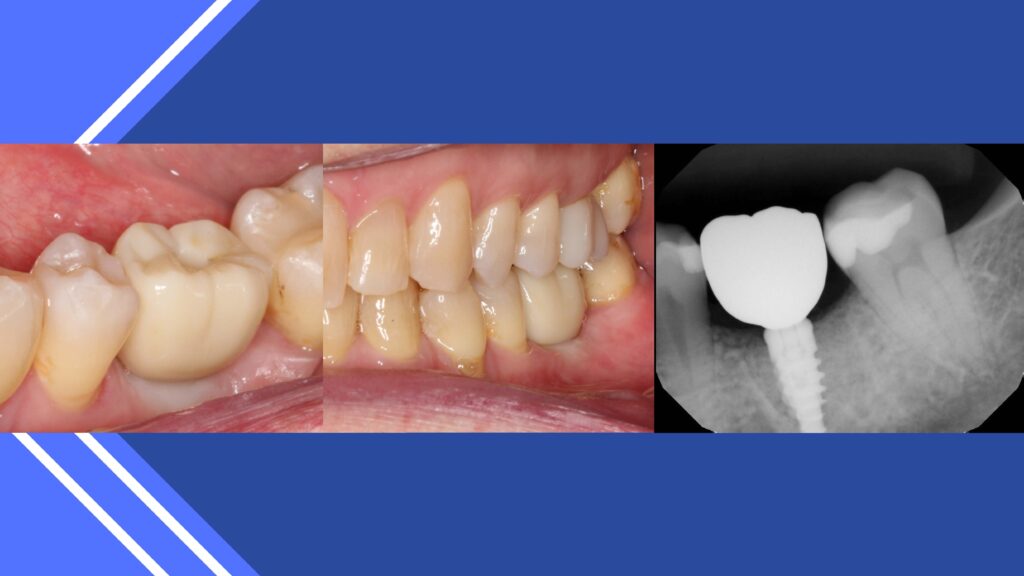 Maxillary missing teeth can be explained in the same approach providing the doctor the opportunity to discuss the sinus and potential complications following treatment in this part of the body. This may include stuffiness in that side of the nostril. Post-operative symptoms are addressed. The patient is instructed to not blow their nose heavily, rather using a nasal spray and sleeping with an extra pillow to allow drainage.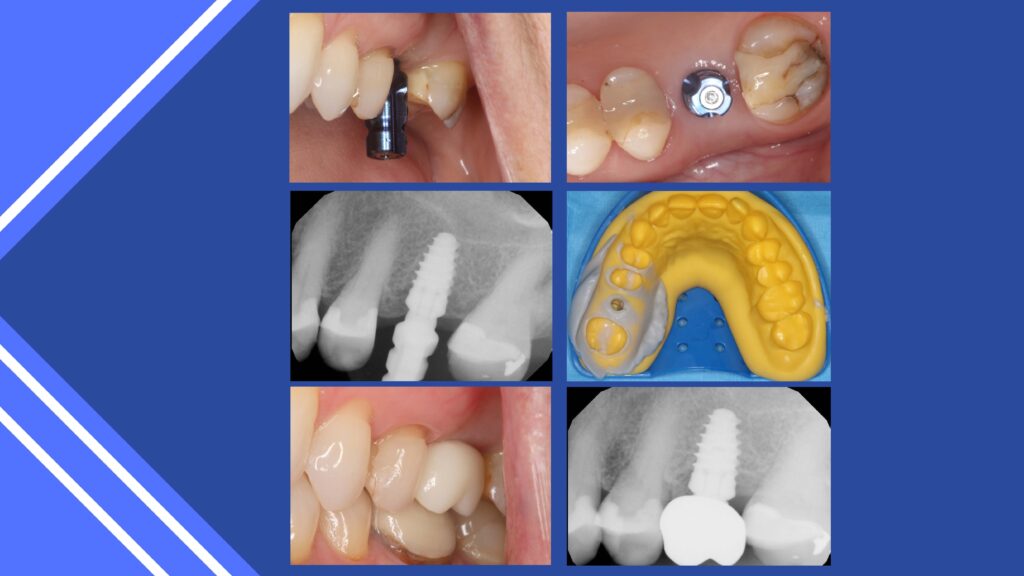 Medications may include an antibiotic regimen if there is any sign of infection and some analgesics and anti-inflammatory such as ibuprofen.  Ice to the outside of the face helps reduce swelling and reduces heat. Reduction in swelling reduces pain and a reduction of any discomfort provides a positive experience.  In some circumstances, non-restorable teeth can be extracted, and the sockets grafted and immediate implants placed. This reduces total treatment time by allowing for integration of both the graft and dental implant.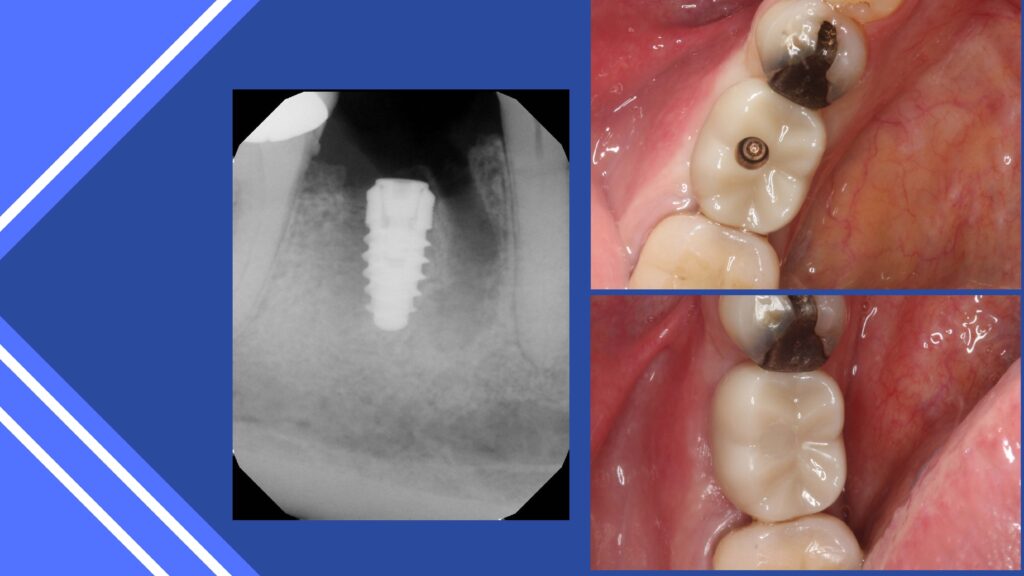 Anterior tooth replacement requires special skills to provide an acceptable emergence profile and smile design. Rules in positioning the implant must be followed. The implant is not placed in the socket created by the extraction, rather approximately 3 mm palatal to the facial aspect of the adjacent teeth. Initial stability is created by the apical 2mm of the implant, which is positioned beyond the apex of the socket. Utilization of the palatal wall may help.  The large socket is filled with a graft material that acts like caulking and will help in the healing process and maintenance of 2mm or more of facial plate of bone. This eliminates any dark shadowing of the implant body in the important esthetic zone. 
Some cases present that are complicated. Figures demonstrate a class 3 condition, missing posterior teeth and unacceptable esthetics. As general dentists, we can understand tooth shape and position.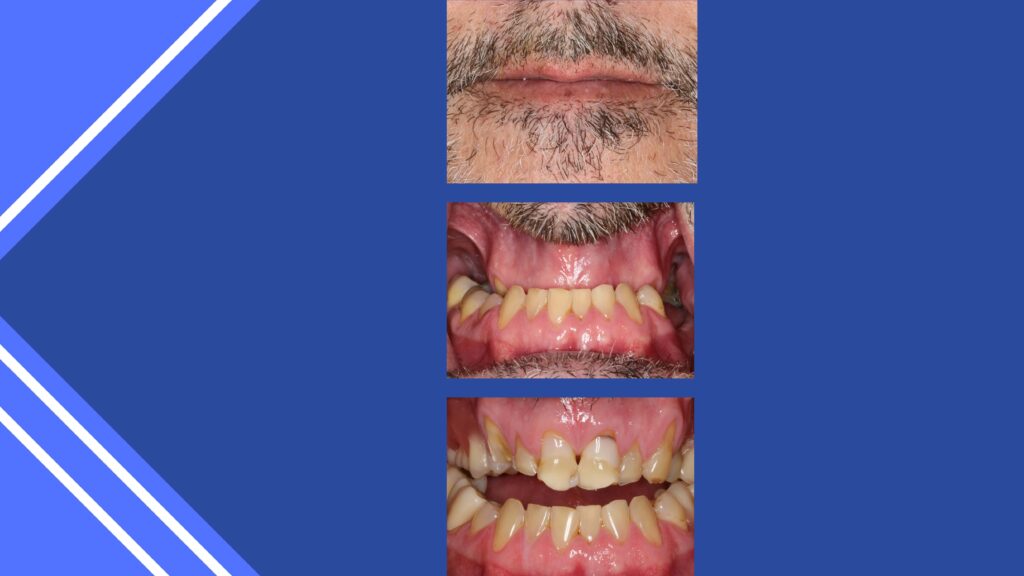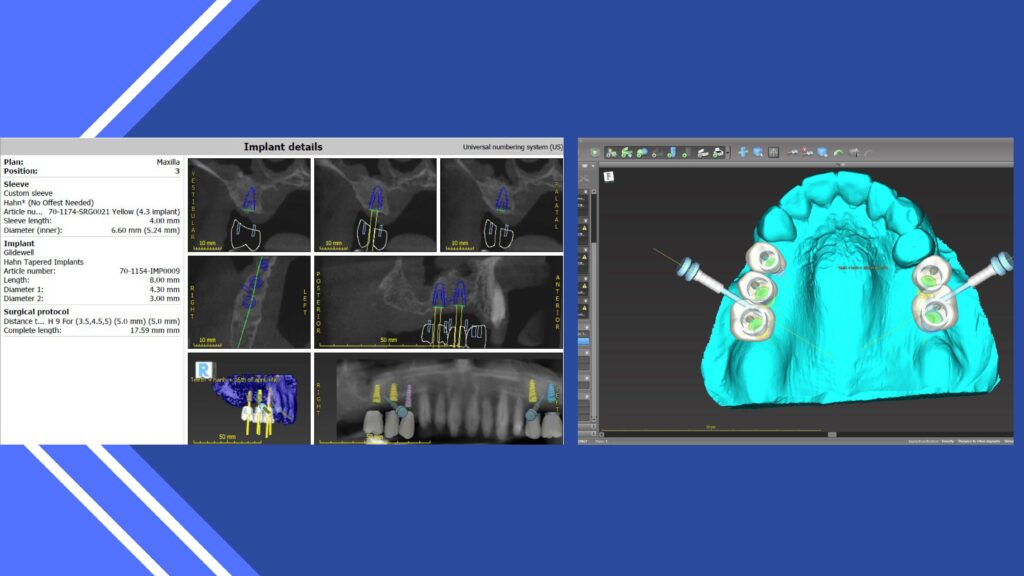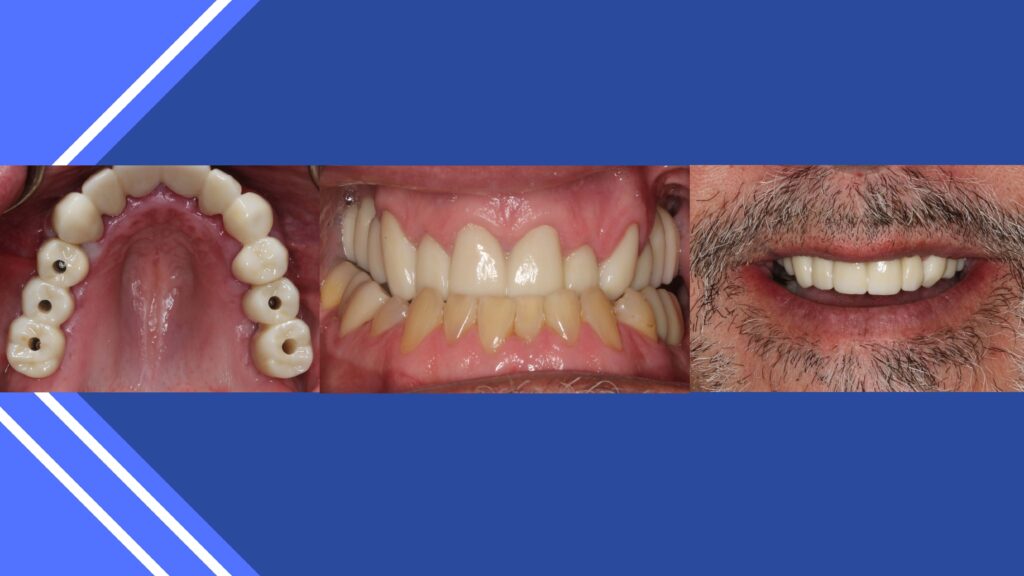 Again, visualizing the case finished before and surgical intervention ensures proper tooth design. The approach in implant dentistry today is a tooth up or tooth down approach. (9, 10,11)
Threading the fixture into available bone is not the most challenging part of the process, rather what is most testing is being able to precisely place the implants to maximize what the patient sees. CBCT analysis and guided surgical techniques aid in implant placement and final prosthetic fabrication. A differential diagnosis can be made depending on your clinical experience. Saving natural dentition should be relevant and can be explained.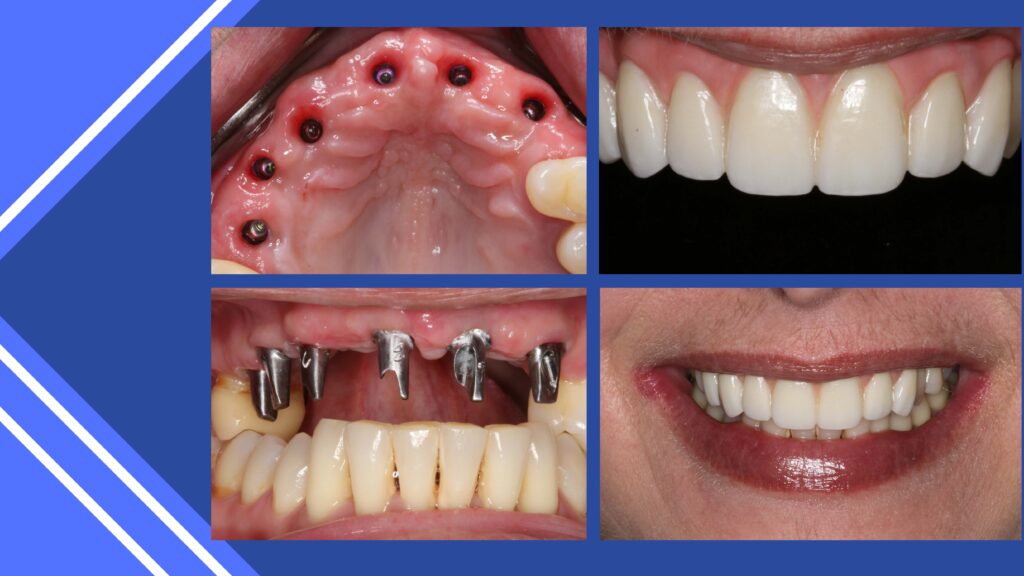 In today's social media presentations, the all-on –X approach is promoted. This includes removing the remaining teeth, reducing bone to a predetermined flat plane and precise positioning of 4 to 6 implants and immediately loading these with a transitional appliance. To achieve this there must be 14-16mm of interproximal space per arch. (12) The patient has specific responsibility including a basic liquid diet for 7 days and a completely soft diet during the integration time before fabrication of the final implant retained prosthesis. Maintenance is critical to a positive prognosis.  Therefore, patient selection is most critical. Not everyone that presents wanting this innovative treatment is an ideal candidate.   Often, teeth can be retained, and implants precisely positioned without removing viable bone and fixed implant retained bridges fabricated.  Cases that require extractions, grafting and implant retained bridges can be created with a clear goal in mind. This therapy is not magic, nor routine, but with proper experience and partnership with quality dental labs satisfactory clinical results can be achieved.  
Overdentures of various designs are an alternative to fixed implant prostheses. (8, 13,16) These appliances provide stability and retention, improved chewing function and quality of life. They can be designed in various ways, with milled bars when anatomy requires or individual attachments.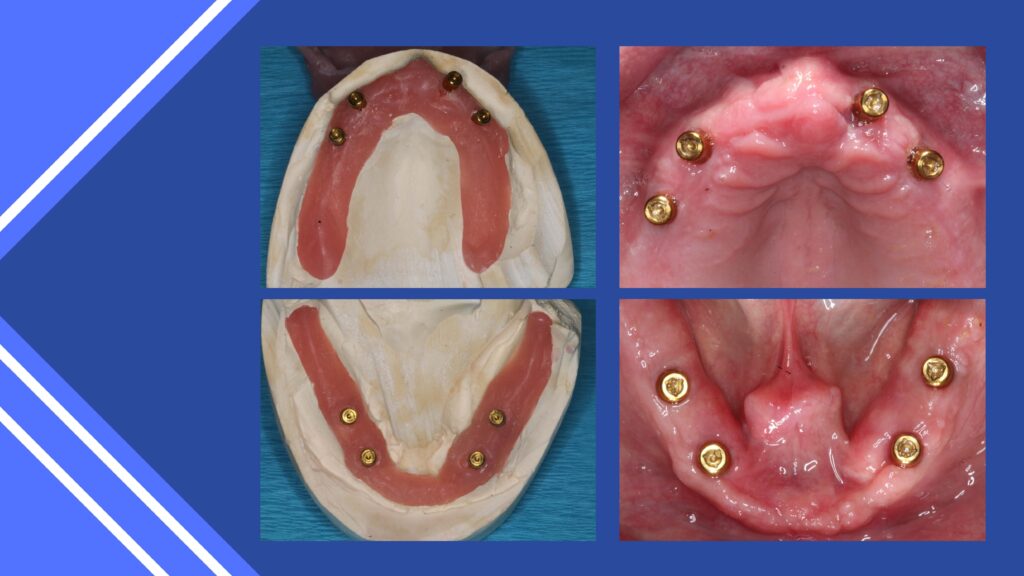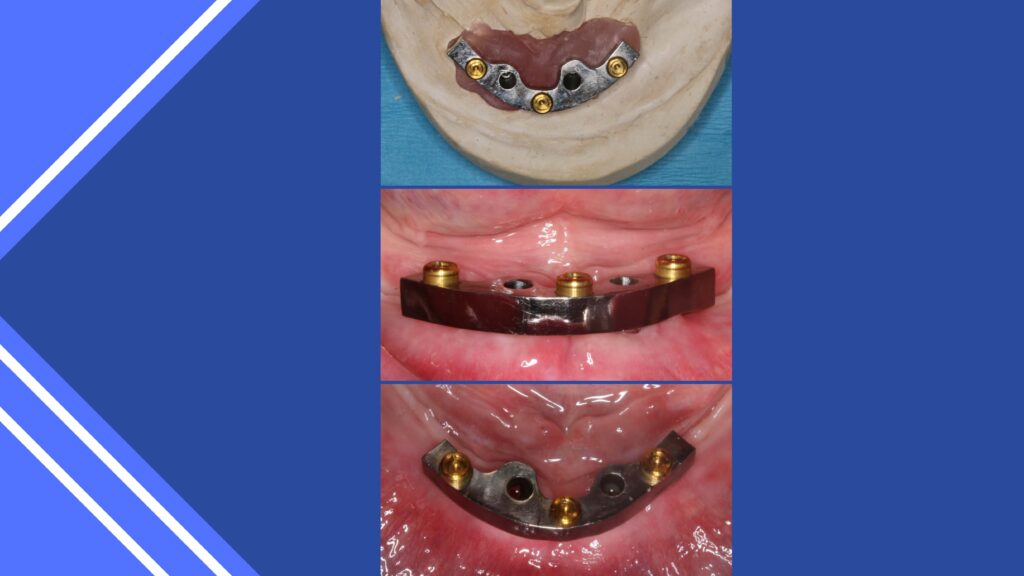 Finally, the implant retained fixed prostheses provide the highest quality form and function. (1,2,3,4,5) The guided surgical protocol is becoming extremely predictable and, although requiring specific skills and understanding, can be the most outstanding clinical treatment dentists can provide.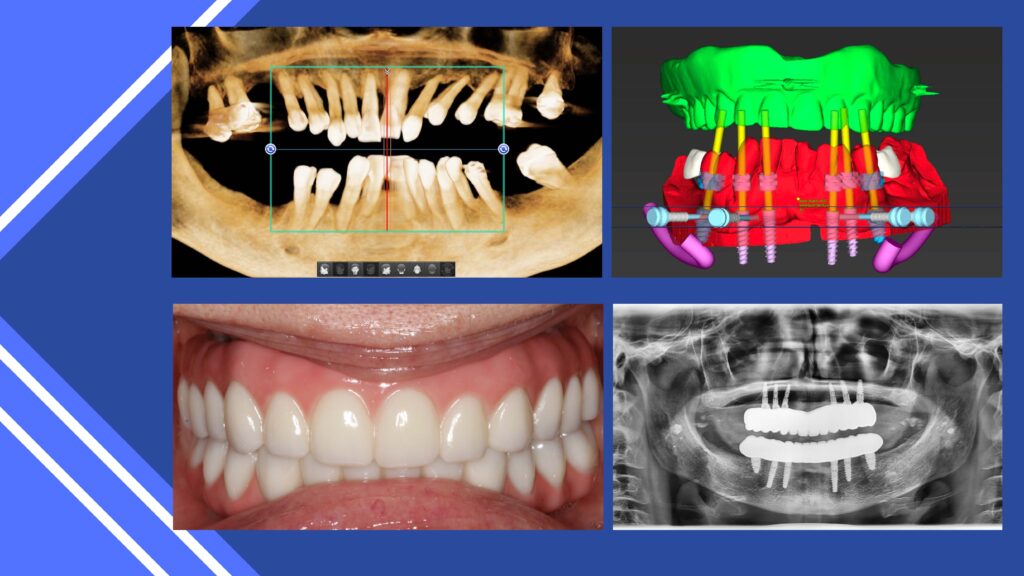 Getting your patient to accept any of these implant therapies comes first with your and your team's ability to educate and instruct the potential implant candidate, knowing your clinical limitations, meeting the patient's perceived expectations and working within their budget. Tools available to us can help us visualize the case finished before ever starting and create emergence profile and smile design. Taking a tooth first methodology will help the practitioner idealize implant positioning and eliminate errors.  Although the steps involved in dental implant reconstruction can be taxing, the result is most important. That is what the patient, family and friends will visualize for years to come.
About Co-Author Dr. Stephanie Tilley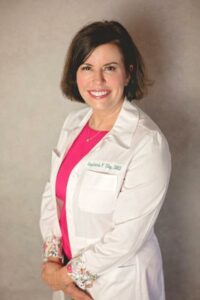 Dr. Tilley is a graduate of the University of Alabama School of Dentistry. She is a native of Pensacola, Fla, and has been practicing dentistry in her hometown since 1998. She keeps up with the latest in dentistry by attending continuing education seminars on topics such as oral surgery, implants, veneers, periodontal disease, cosmetic procedures, and much more. Tilley has also done extensive training at the Las Vegas Institute for Advanced Dental Studies and the Engel Institute with Drs. Timothy Kosinski and Todd Engel. Her lectures discuss bone grafting procedures and surgical and prosthetic aspects of implant dentistry. She is a Fellow of the International College of Dentists and most recently was inducted into the American College of Dentists and the Academy of Dentistry International. Dr. Tilley is a member of the AGD, the ADA, the Florida Dental Association, the Alabama Dental Association, the Academy of Laser Dentistry, and the Academy of American Facial Esthetics. Dr. Tilley is also a Fellow with the International Congress of Oral Implantologists.  She has been featured in several national dental publications and has published extensively on implant dentistry techniques, lasers, and Botox/ fillers. She can be reached via email at stephflynntilley@cox.net.
REFERENCES:
(1) Kosinski, T.F. "Implant Retained, Solid Zirconia Full Arch Reconstruction: What Our Edentulous Patients are Asking for." Inside Dentistry. May 2019. 42-54.
(2) Kosinski, T.F. "Full Arch Implant Restorations:  When Are Multi-Unit Abutments Needed?" Chairside. Vol. 14(2).2019. 33-36.
(3) Kosinski, T.F. and Tilley S. "The Implant Screw-Retained, Fixed-Detachable Bridge: Improving Quality of Life for Edentulous Patients."  Inside Prosthodontics. January 2020. 2-6.
(4) Kosinski, T.F. and Tilley, S. "Master Class/Implants:  The Implant Screw Retained Fixed-Detachable Bridge." Inside Dentistry Technology. Feb 2020, 34-45.
(5) Kosinski, T.F. and Tilley, S. "Master Class Implants:  The Implant Screw-Retained Fixed-Detachable Bridge: Improving Quality of Life for Edentulous Patients." Inside Dental Technology. Feb. 2020. 32-44.
(6) Kosinski, T.F. "Expanding Diagnosis and Treatment Skills."  Dentistry Today. Vol. 39(2) Feb. 2020. 68.
(7) Kosinski, T.F. "Implant Surgery: When Should You Use a Flapless Technique?" Chairside. Vol 15 (1). 2020. 43-47. 
(8) Kosinski, T.F.  "When are Overdentures the Right Treatment?"  Chairside. Vol 15, Issue 2; Special Implant Edition. 2020. 63-67.