When my first print article appeared in Dentaltown in September 2010, the title was "Does My Office Need a Facebook Page."  That was a real question then, as Facebook had only rolled out their Business Page product in 2008, four years after launching the social media website in 2004.
Only a few dentists had taken the plunge into social media back then, and when I started lecturing in 2011, the classes were basically a walk-through of setting up a Facebook Page.  We even created a Page from scratch for one of the attending doctors during the class. 
Currently, virtually every dental office has a Page on Facebook, and many have a presence on other social media platforms as well. The emphasis now is on what type of content is best to build a trustworthy and engaging presence for your office.  Content that will enable you to attract new customers as well as encourage existing customers to utilize basic services more frequently and accept more comprehensive treatment. 
The basic tenets of social media posting still apply. You want your office's presence to be an accurate reflection of the quality of care, friendliness of staff, advanced technologies employed, attention to cleanliness and the health of patients and staff, and an overall positive reflection of real life portrayed on the platform.
There are several ways to accomplish this and there are great examples of offices that do a great job. One of my favorites is Waldman Orthodontics in Beverly Hills, https://www.facebook.com/waldmanorthodontics 
Dr. Waldman and team use a combination of before and after shots, staff member profiles, reviews from satisfied customers, influencers (internet sensation @charlidamelio is a patient and posts about her case progress), real patients smiling with their great results, and Dr. Waldman himself discussing the latest treatment advances employed at his office.
After viewing the Facebook Page, I can't imagine why any prospective customer would not want to make an appointment! 
While Dr. Waldman's Page is a great model to mirror, there is a basic context I would like the readers to think about as the main takeaway from this article.
All of the content that appears on your office Facebook Page falls into two categories:
Brand Generated Content (BGC)

User Generated Content (UGC).
BGC refers to just about any content posted by the office directly on the office Page and can be an image, video, link to an article, or link to additional content on the office's website. This can include content produced by the doctor or staff member or an outside agency used to generate content.
Be wary of the latter as it is often "canned" content that might simultaneously appear on other dental practice Facebook Pages and rarely gives the personalized feel that you want to give about your own office.
UGC, on the other hand, is content created typically by an existing patient of the practice and can be shared either to the practice Page or on the user's personal profile. The latter is highly preferable as the audience for that content would be the user's own network of friends on the platform and comes across as a direct word-of-mouth recommendation. UGC usually will be in the form of a review, recommendation, or check-in.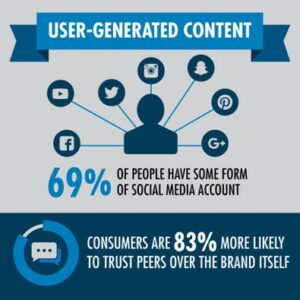 User Generated Content (UGC)
Content created by your patients and shared to your practice Page OR on the patient's personal profile.
As the above graphic shows, consumers are much more likely to believe content about your office that is generated by their peers (UGC) than content that your office produces (BGC).
You have control and the ability to easily create BGC but getting UGC is much more challenging. Let's start with check-ins, one of the easiest ways to get UGC.
Check-ins have been around since the early days of social media, yet I believe they are the single most underutilized feature in the small business owner's arsenal. We have all seen photos of "food porn" on social media, where many people are very quick to share incredible images along with the location where they were taken.
See my personal example below…clearly, I'm enjoying an evening in Las Vegas at the amazing Morimoto! These types of check-ins become a recommendation of the business that gets posted on the individual's personal profile, allowing the business a reach they could not otherwise get, albeit with the implied personal recommendation.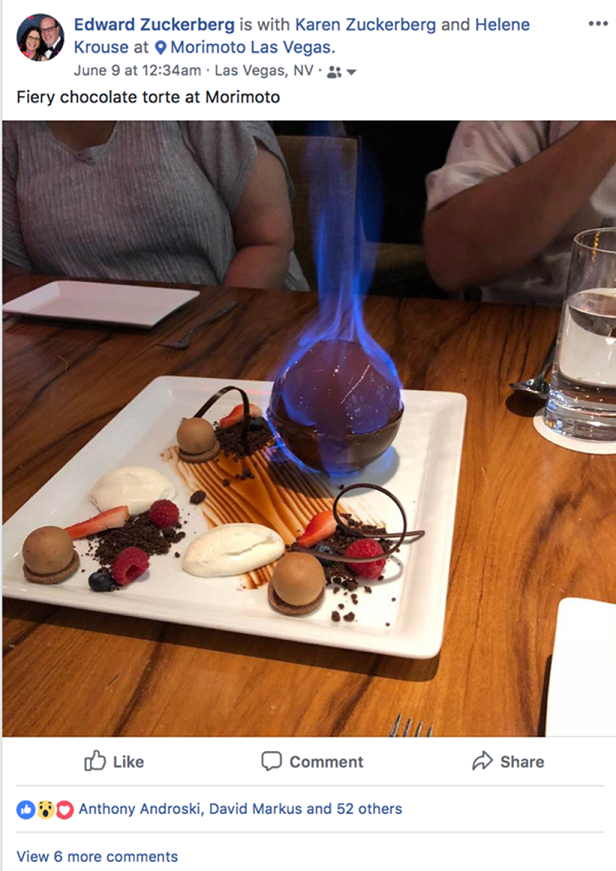 Reach
Organically, content posted by a Page will reach between 5-10% of the fans of a Page, depending on how much engagement the post gets. The reach ends there unless the content is so interesting that fans of the Page share it to their own profiles, an unusual occurrence.
Business owners can pay to boost content and can choose to target friends of the fans of the Page.  This is a great tool to reach potential word-of-mouth referrals, as the audience reached by this method will also see the name of their friend that is a fan of your Page.  Albeit a passive word-of- mouth referral, credibility is achieved through the implied recommendation of the business' services from their trusted friend.  
Still, the content is BGC, and as such there is a better way to do this – and arguably, less expensive.
If you consider that the typical dental office has about 500 fans on Facebook and the average user has 350 friends in their network, the typical office has a potential reach of 175,000 word of mouth referrals by tapping into the networks of their fans. The challenge then, is to encourage our patients to check-in at our offices!  This is not a simple task, but with some creativity and incentivization, the goal can be successful.
Be Creative
Many offices already give away lots of free swag in the form of engraved toothbrushes, water bottles, shopping bags, toothpaste wringers, pens, etc. Additionally, other giveaways I have seen include stickers, movie passes, toothpaste, hourglass timers, keychains, letter openers, hats, you name it!
The stuff offices are giving out with the hope of spreading their name around is incredible, and yet they get nothing in return, other than a small amount of goodwill. Why not package it all into a reusable shopping bag and offer it in exchange for a check-in? Now each bag given away (estimated cost under $25 total) results in up to 350 people finding out that their trusted friend thinks enough of your dental practice to tell all their friends that they were in your office. Their friends won't know you "bribed" them for the check-in, they simply perceive their friend as yelling out "My dentist is great, and you should be going to him/her/them!" 
Sometimes, opportunities fall in your lap – just screaming for a check-in promotion

.
My office took advantage of a shipping snafu a few years ago when our usual monthly supply of toothpaste samples went from 1 case of 36 tubes to 100 cases! What were we to do with 100 cases of toothpaste? One thought was to give them to local churches and synagogues to distribute to homeless people, which we did with about half of the cases. We also tried a check-in promotion offering a free case in exchange for a check-in: 
In no time, 42 of those cases were grabbed by people more than willing to check-in at our office and show proof of their check-in on their phones to our front desk! And just like that, we were on our way to handling phone calls and emails from several new patients obtained via this promotion. In one case, a lady who accompanied her friend to the office to drive her home after a surgical procedure, inquired if she was eligible to get a case of toothpaste as she was not a patient. Of course, we gave it to her in exchange for a check-in and we were potentially able to get 350 new referrals from someone who was not even a patient of the practice!  
User-Posted Reviews
User posted reviews are another source of UGC that are perceived as highly authentic. The best ones come when your happy patient posts the review on their own profile, thus sharing it directly to their 350 friends.
If you can identify the patients in your practice who are more tech savvy, they probably have over 1,000 friends in their network and a review from them carries even more bang. Only a few are likely to review directly on their profile, like this guy did: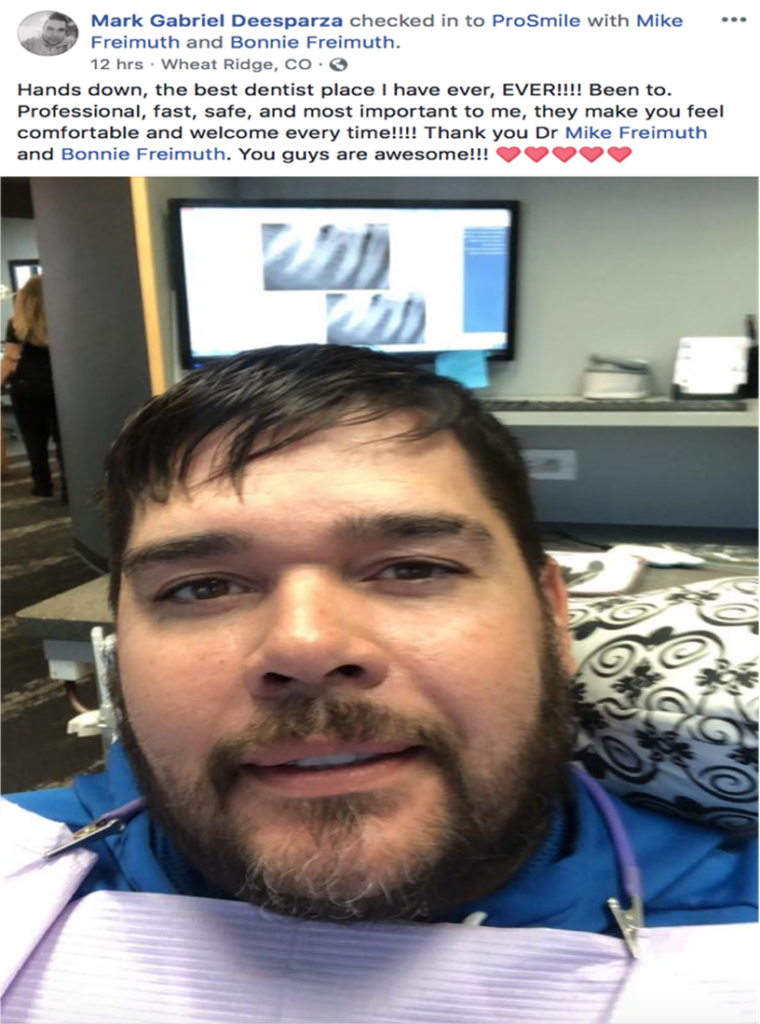 When you can get them to do this, it is very powerful. Others will engage with threads on your Page providing recommendations, writing five-star reviews on Google, Healthgrades, Yelp, etc. which you can ultimately share on your Facebook Page.
These are the ones I consider to be hybrid UGC-BGC content since the post will appear only on the office Page, but the content originates from a satisfied customer, so it carries with it the authenticity of UGC, it just does not have the organic penetration to the customers' network. This is where establishing a budget for boosting content to the friends of fans of your Page comes in. 
To wrap it all up, increase engagement and perceived authenticity of the content on your Facebook or other social media page by using UGC effectively. Do this and you will watch your new patient numbers and case acceptances grow through efficient use of your existing and highly satisfied customers.