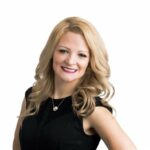 Grace Rizza began growing businesses at the age of 22. She has guided the growth of more than 1,000 successful businesses while building a business and family of her own. In her first position as a Marketing Director for a multiple location dental practice, she tripled the number of new patients seen on a monthly basis (in 3 short months, on the same marketing budget).

Grace was recently selected as a 2019 Honoree at the Daily Herald Business Ledger's Influential Women in Business Awards.

Grace and her team can help with the creation and execution of marketing strategies, public and community relations, networking, patient communications, staff sales training, phone scripting and training, advertising, internet/web presence, SEO (search engine optimization), direct mail programs, email newsletters, and much more.
Reducing the Risks Associated with Digital Marketing in 2020